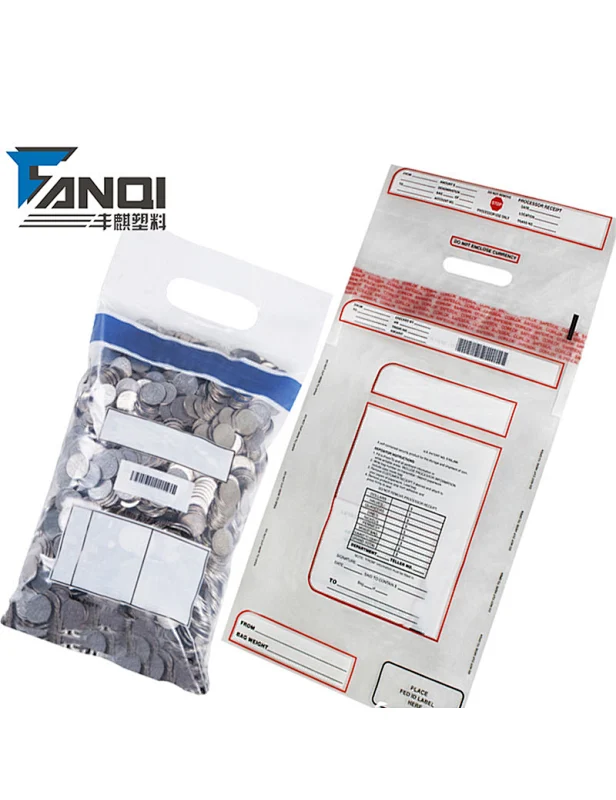 Coin Deposit Bags
Larger target for hand-held scanners provided by high visibility bar-codes, with reinforced die-cut handle with triple LDPE film, FENGQI manufactured coin deposit bags are able to carry coins in 15kgs. What's more, our bags of coins from banks are designed compatibly for all kinds of major coin sorting equipment. Our High-quality cash transmittal bags can provide you top experience in banking, finance and many other industries.
Description of Coin Deposit Bags
The
cash bags for banking
is made of three layers of specially made coin-mixed film, thick and strong enough to remove loose coin from washing machines, slot machines, arcades, etc. Perfect for any coin business! The reinforced die - cutting handle can withstand a 50 - pound suspension test and can drop 7-8 drops from 6.5 feet.
High visability barcodes in the
tamper proof coin bag
provides larger target for handheld scanners. Large videovisual numbers are easily viewed by security cameras for audit trail. Reinforced die-cut handle with triple LDPE film. Will carry roughly 15 KGS of coins. Dual receipts for customer or process use. FENGQI-LOCK-weld feature eliminates bag tear on seams when loading. Strong, low-slip specially formulated LDPE film technology. Our
tamper proof coin bags
has a shipment write on area and the shipment label placement area. Low slip film for easy stacking. The
coin deposit bags
can be customized for client convenience. We use a special developed plastic film for our
bags of coins from banks
. It is a three-layer film blend, it combines multiple film properties for maximum performance and durability. The reinforced, heat-sealed handle provides added strength and durability for handle integrity throughout the transportation cycle. Our tamper proof coin bags were specifically designed for compatibility with all major manufacturers of coin sorting equipment.
Coin Deposit Bags are ideal for:
To store important & confidential documents, valuable goods and so on such as governments, banks, finance companies, accountancy and legal firms, laptop, hand disk.
Medical firms such as hospital, clinic, and pharmaceutical industry
Cash in transfer, ATM machine.
Discipline force such as Police, Election, Customs and Prison…etc.
Coin Deposit Bags Application:
Banking and Financial Institutions
Armored Car Company
Law Enforcement Agencies like Ministry, Police, Customs, and Prison
STEB Program for Duty Free Stores & Airlines
Restaurant
Hotel
Logistics
Retail Chain Stores
Education
Medical Institutions and Laboratories
Government
Data Sheet of Coin Deposit Bags
| | |
| --- | --- |
| Material: | Co-extrusion/Clear LDPE super strength polymers |
| Tape: | Custom tamper awareness levels range from 0 to 5 |
| Barcode: | 1 unique sequential numbering and barcode on individual bags |
| Printing: | White writes notes and signs on the panel |
| Style: | with reinforced handle |
| load capacity: | 55pounds. |