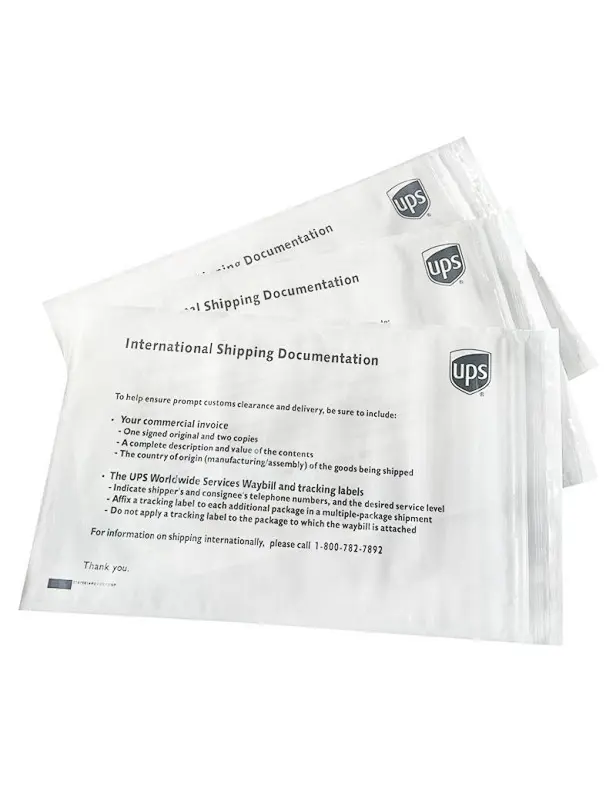 Custom Packing List Envelopes
Personalized customization available in FENGQI PACKAGING. You are very welcomed to tell us your requirements and we will delivery in no time to meet your satisfaction. Pressure sensitive, fast, simple application to protect your important items from damage like moisture, dirt and abrasion. High competitive price, international production equipment, various materials to choose, eco-friendly design, please feel free to contact us in anytime.
Description of Custom Packing List Envelopes
The
adhesive packing slip pouch
can be applied to in Transportations, Packages, Express Mail tocarry the Documents, Invoices, Airway Business.
Ensure that your shipping documents and FENGQI's packing list envelope arrive intact. These
custom packing list envelopes
help protect invoices and important shipping information from dirt or moisture. You can choose an
self enclosed envelope
with warning information on the back or front or without warning information. Their pressure-sensitive adhesive can quickly adhere to paper, metal, wood, corrugated or plastic and can be used in any type of container. Keep your documents clean and original and easily avoid expensive shipping delays with these specialized envelopes.
We have many different styles of"PACKING LIST ENVELOPE". Our Packing Slip Envelopes can be custom-made to size and printed with up to 7 colors.
Pressure sensitive backing sticks to almost any standard shipping surface.
Fast, simple application-simply peel off paper backing and apply to package.
Pressure sensitive, back loading envelopes for protecting shipping documents from moisture, dirt and abrasion.
Other names: packing slip envelopes,invoice enclosed pouch,documents enclosed wallets,waybill pouch.
Custom Packing List Envelopes Performance:
1. Approved by UPS, FedEx and USPS
2. Puncture proof, tamper-proof/waterproof
3. Provide good protection during transportation
4. Protect your paperwork from dust, dust, and moisture
5. Great protection of information in the direction of warranty documentation
6. Well protected data that you will retrieve
Advantages of Custom Packing List Envelopes:
1>high quality and competitive price
2>international advanced production equipments. OEM service.
3>we are the top brand manufactures cooperators.
4>each inquiry for cargo shipment by ship and plane
5>kinds of raw material: PO,PE, OPP, PP, PVC, CPE, PO/PE and composite material, non-woven fabric materials, eco-friendly material.
If you are interested in our products, please feel free to contact with our Sales.
Hope to establish business relationships with you.
Data Sheet of Custom Packing List Envelopes
1. Usage: express delivery, post, packing waybill and paste it on carton box.
2. Style: side and bottom sealed, peel off the back paper and paste on carton box.
| | |
| --- | --- |
| Top Film: | PE /PP etc. |
| Bottom Film: | PE /PP etc. |
| Glue: | 22-25g |
| Release Paper: | 45-50/65-70g |
| printingPrinting: | Clear/1-7 colors |
| Style: | Nomal/Zipper/Release Seal |