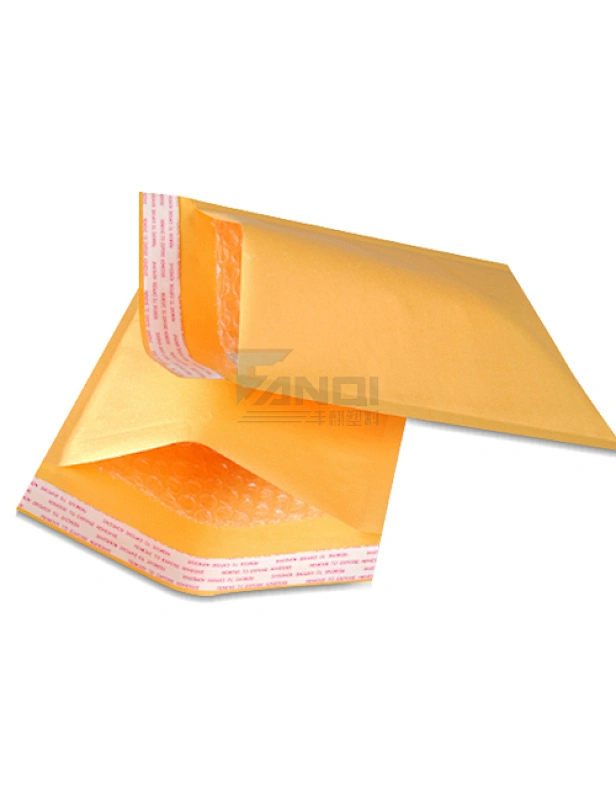 Kraft Bubble Mailers
FENGQI China manufacturer offer high-quality bubble mailers that is light for saving postal cost in gold kraft which is ideal for a variety of mailing needs. And special sizes or printings can be customized as your require. You are welcome to use our kraft bubble mailers for medicine, CDs, samples, seeds and more. Come know more information.
Description of Kraft Bubble Mailers
Fully laminated kraft paper and air honeycomb structures provide outstanding stiffness and puncture resistance to make FENGQI made
kraft bubble mailer.
Kraft Bubble Bags Features:
Postal savings are light weight.
The seamless bottom provides additional cushioning protection with greater overall strength and safety.
High slide bubble cushioning material makes product insertion faster and easier.
Convenient self-sealing closure saves labor and eliminates the need for staples and tape, while forming a waterproof, safe package.
Golden yellow, brown and white, elegant appearance.
The appearance of kraft paper presents high quality images and provides a good surface for custom printing.
Made from 100% recycled ingredients.
Special size and printing can be customized according to customer requirements in our
kraft bubble mailers padded envelopes.
1) Gold Kraft is ideal for a variety of mailing needs.
2) Light weight for saving postal cost.
3) Peal-and-seal strip is quick and easy to use. Remove strip and close.
4) High-slip barrier bubble cushioning materials allow faster, easier product insertion.
5) Convenient self-seal closure while forming a water-resistant, secure package.
6) Self-Sealing Bubble Mailers provide outstanding low cost shipping protection for a wide variety of products.
7) Made from 100% recycled content.
Application of Kraft Bubble Mailers
Drugs & vitamins, Audio, CDs, CD-ROMs, Samples, Dental & medical supplies, Watches , Seeds , Jewelry , Photo , supplies , Video cassettes ,Picture, frames , Novelties , Catalogs , Spare parts
Data Sheet of Kraft Bubble Mailers
>Kraft bubble mailer, bubble envelope, padded envelope
>Tough kraft laminated with barrier bubble
>Golden/Yellow
>Easily accepts inks, stamps and lables
>Fins on 2 sides or 3 sides
>Self-seal, Strong Hot Melt Adhesive