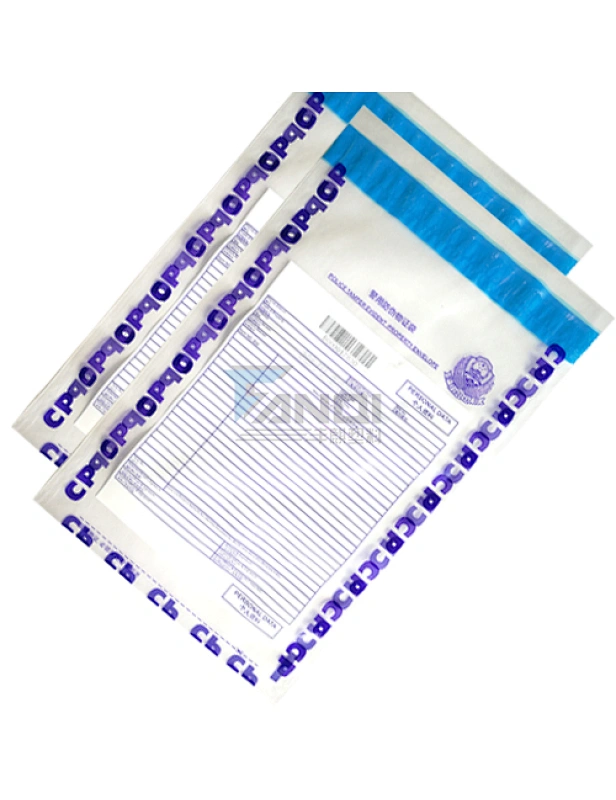 Security Evidence Bags
To collect and transport a range of evidence and samples or to secure any important profile, FENGQI produce police security evidence bag widely used in law enforcement agencies like ministry, police, customs, and prison. It is also applicable for much more private organizations as business security departments. You can fine more application fields down here.
Description of Security Evidence Bags
Police evidence bag,security evidence bags or security evidence bags
are very essential for securing any important profile, collecting and transporting a range of evidence and samples. FENGQI
tamper proof evidence bags
are designed to be used by police and forensic organizations at the municipal, state and federal government level well as private organizations such as college, university and business security departments.
Tamper Evident Plastic Bags are ideal for:
To store important & confidential documents, valuable goods and so on such as governments, banks, finance companies, accountancy and legal firms, laptop, hand disk.
Medical firms such as hospital, clinic, and pharmaceutical industry
Cash in transfer, ATM machine.
Discipline force such as Police, Election, Customs and Prison, etc.
Tamper Evident Plastic Bags Application:
Banking and Financial Institutions
Armored Car Company
Law Enforcement Agencies like Ministry, Police, Customs, and Prison
STEB Program for Duty Free Stores & Airlines
Restaurant
Hotel
Logistics
Retail Chain Stores
Education
Medical Institutions and Laboratories
Government
Feature of Security Evidence Bags
Evidence Bags are ideal for Law Enforcement Agencies like Ministry, Police, Customs, and Prison.
Application of Security Evidence Bags
These Police Evidence bags are for the law enforcement agencies like forensic, crime, police, and prison for prisoner processing and to secure crime scenes.
You need to protect the evidence that your department collects at a crime scene, using Police Evidence Bags. Improperly protected or lost evidence can impact the outcome of a prosecution, and it may lead to the wrong conclusion by a judge and jury.
Our evidence bags make it easy for your department to document the evidence until it is used in trial. The printed section includes space for logging the chain of possession of evidence, the case number, suspect, and victim and evidence description. 
Data Sheet of Security Evidence Bags
Material:

Co-extrusion/Clear LDPE 
100% recyclable and environment friendly materials/Available in Biodegradable materials

Tape:

Custom tamper awareness levels range from 0 to 5

Barcode:

unique sequential numbering and barcode on individual bags

Printing:

White writes notes and signs on the panel

Style:

strong wide nesting, side welded seal with edge printed on both sides
dotted line at the bottom